UAS LiDAR in the Field!
April 21, 2016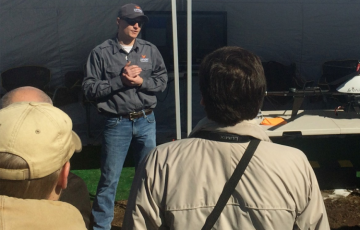 Following the recent International LiDAR Mapping Forum (ILMF) in Denver, Colorado, Juniper Unmanned, Pulse Aerospace and YellowScan joined forces to provide a live flight demonstration of an unmanned aircraft system (UAS) collecting LiDAR data.  The purpose of this event was to help inform and educate prospective clients about airborne LiDAR data acquisition and the flight characteristics of a helicopter UAS.
To kick off the event, several dozen attendees met at the Philip S. Miller Library in Castle Rock, Colorado for brief presentations by the sponsoring firms. Dave White from Juniper Unmanned welcomed the attendees and provided an overview of the day's activities, followed by Jason Jung of CH2M, Aaron Lessig of Pulse Aerospace and Pierre d'Hauteville of YellowScan. While the majority of the field demonstration attendees were from the United States, we also hosted guests from Finland, Malaysia, and Argentina!
A brief 'Question & Answer' (Q & A) session followed the vendor presentations, which allowed the attendees to inquire about various technical aspects of Pulse's VAPOR 35 UAS and YellowScan's Mapper LiDAR sensor. The discussion continued with inquiries about geospatial data production from LiDAR point cloud data sets, which allowed attendees to better understand this complex data processing workflow. After a lively discussion, attendees were provided lunch before heading out to Juniper's private flight demonstration site near Sedalia, Colorado.
Once all the participants arrived at the flight demonstration site, Tyler Sautter, Juniper's Director of Training introduced members of the flight crew and provided a comprehensive safety briefing. Following the briefing, attendees were moved to a "safe area" located behind the flight demonstration area, which allowed the UAS flight crew to safely prepare the aircraft for flight. After completing the pre-flight checklist, the flight crew launched the VAPOR 35 UAS using Pulse's automatic flight control systems that direct aircraft takeoff and landing actions. The UAS then completed a short, pre-programmed flight plan that allowed it to acquire LiDAR data for an area of approximately 20 acres.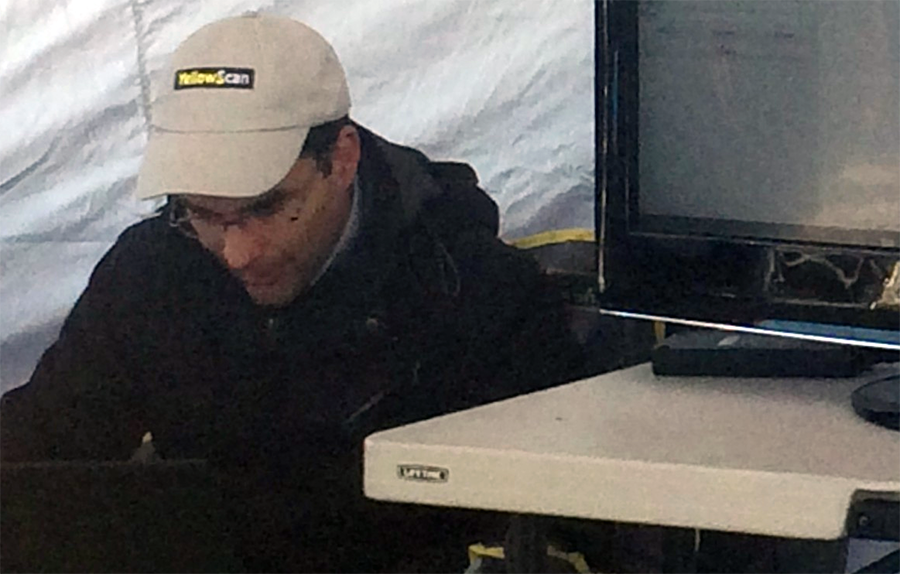 After an uneventful landing, the USB data storage device was removed from the LiDAR sensor to begin post-processing activities. Tristan Allouis, YellowScan's Chief Technical Officer, provided a brief explanation of the steps required to generate the LiDAR point cloud data set in the (ASPRS) LAS format, which is the industry standard for mapping and surveying project work. Within about five (5) minutes of landing the UAS, Tristan was able to display the point cloud data to the attendees, who were highly impressed by the scanner's quick results and ease-of-use!
Following Tristan's field presentation, many of the attendees inquired about various aspects of the demonstration flight plan, LiDAR data processing and the required software applications needed to support airborne LiDAR data collection efforts. It was abundantly clear that this technical discussion, paired with a live flight demonstration provided many valuable technical and business insights to the attendees, who were all considering using LiDAR to support various commercial applications.
Going forward, Juniper Unmanned believes that this versatile and efficient UAS-based LiDAR mapping solution will support a wide variety of commercial applications in the mining, agriculture, power delivery and civil infrastructure markets. As a result, we believe that LiDAR data acquisition from an unmanned platform will continue to become more affordable, more frequent, and more accessible for commercial firms.
To learn more about Juniper's flight services offering, please email Jeff Southard or call us on (720) 440-9960.