Juniper Unmanned Finishes Over 350 Miles of Road Survey – With a Drone
August 8, 2020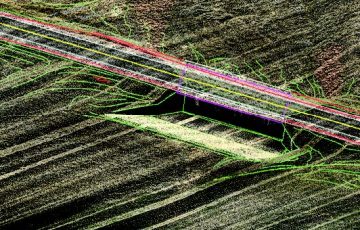 DENVER, COLORADO
Juniper Unmanned, Inc., a Colorado-based remote sensing and analytics integrator announced its completion of pre-construction survey of highways for the Colorado Department of Transportation. It's the first time drone technology has been successfully utilized to provide a state department of transportation with survey data that meets the survey standards and accuracy requirements.
Juniper pioneered a new process that uses LiDAR, a technology that shoots pulses of laser light at the ground and takes tens of thousands of measurements every second. Those pulses of light create a 3-dimensional model of the road way and the rights of way on either side of the road. Engineers are able to create better drawings from the model.  Where traditional survey might deliver thousands of points of location data, Juniper's solution provides tens of millions of points of data.
"The solution we have provided will allow roadway construction projects to be completed in a fraction of the time, with massive reductions in cost," said Jeff Cozart, Chief Executive Officer of Juniper Unmanned. "We've found that the same data can be used throughout the design phase, the construction phase, and the road maintenance phase."
Juniper Unmanned provides enhanced LiDAR and photogrammetric services to a number of markets, including utilities, transportation, oil & gas, and AEC.
About Juniper Unmanned
Based in beautiful Golden, Colorado, Juniper Unmanned, Inc. provides asset management solutions for commercial, federal, and local/regional/state government organizations. The company integrates best-in-class sensing and analytics technologies. When combined with Juniper's engineered processes, advanced software, and analytics, clients receive unparalleled data and actionable intelligence to improve their business. Clients trust Juniper Unmanned's advanced sensing and analytics solutions to deliver unparalleled excellence in data collection, data processing and enablement services across a wide range of industries.