Drones for Search And Rescue
June 30, 2016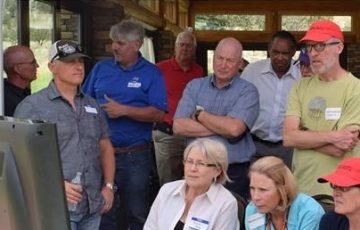 The Chaffee County UAS program, in conjunction with the Chaffee County Economic Development Corporation, Pulse Aerospace, Juniper Unmanned, and UAS Colorado, hosted a live unmanned aircraft system (UAS) flight demonstration at the Mt. Princeton Hot Springs Resort on Wednesday, June 22, 2016.
Chaffee County has an active initiative in promoting and leveraging its resources towards the development of commercial UAS applications for the overall economic benefit to the county. Chaffee County has also been granted certificates of authorization (COAs) from the Federal Aviation Administration (FAA) to demonstrate UAS applications and their potential commercial value with business partners.
To support this initiative, Chaffee County asked UAS Colorado to help facilitate a public event to educate the county community about the UAS program and to illustrate how UAS technology can be successfully used for search and rescue (SAR) operations in rural areas. The VAPOR 55 unmanned helicopter used in the event was provided by Pulse Aerospace, a system manufacturer based in Lawrence, Kansas. The UAS was operated by Juniper Unmanned, under the watchful eye of Tyler Sautter, Director of Training.
To kick off the event, Chaffee County Commissioner and UAS Colorado Board member, Dennis Giese, welcomed the attendees and provided an assessment of the growing UAS industry in Colorado. Specifically, Dennis spoke about how Chaffee County is poised to leverage new technologies to encourage local economic development. Following his remarks, Aaron Lessig, CEO of Pulse Aerospace and Dave White, COO of Juniper Unmanned, addressed the audience and provided an overview of each firm's offering.
After a brief question and answer session and safety briefing, the live drone demonstration was conducted on the grounds of the resort. This SAR exercise prompted much more discussion from the attendees, as many had never seen a commercial drone fly in person. The drone was equipped with a gimballed digital camera that provided thermal imagery, the perfect sensor to locate lost or injured people in remote areas. Attendees were able to watch a live video stream from the drone, which simply illustrated the unlimited number of applications for unmanned aircraft systems.
In summary, the Chaffee County UAS demonstration was a HUGE success! Specifically, local residents and businesses were given an opportunity to learn about the county's new economic development strategy and to observe a drone support search and rescue operations in the forested areas around the resort. Going forward, it is clear that a versatile and efficient UAS platform can support a wide variety of commercial applications, including mining, agriculture, construction and emergency / disaster management operations.
To learn more about Juniper's flight services and enterprise support offerings, please email Dave White or call us on (720) 440-9960.